With an Achilles injury to Kobe Bryant, the shooting guard is in need of a young upstart ready to take the league by storm. James Harden has certainly benefited from getting out of Kevin Durant and Russell Westbrook's shadow, will Monta Ellis and OJ Mayo benefit from a change of scenery as well?
1. Dwayne Wade - Miami Heat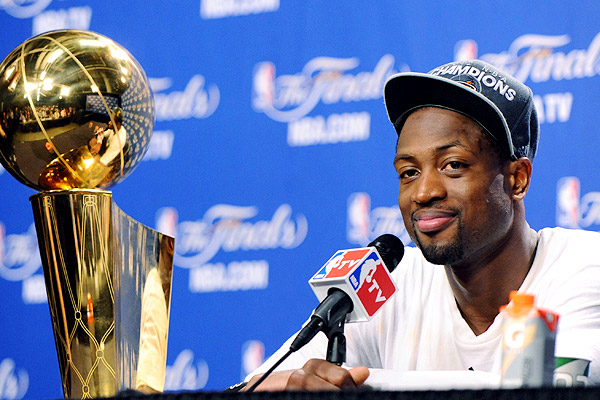 Many critics speculate whether Dwayne Wade still has what it takes to be a top player in the NBA. At times the Miami Heat did look like the Cleveland Cavaliers, and Dwayne Wade (as well as Chris Bosh) had much to blame, but how much of his discerning play was from injury or just simply age? Dwayne Wade is not known to make excuses, he never really let off how much his knee was bothering him. With a full off-season of rest, the three time NBA champ should come back to form. In terms of efficiency, DWade had his best season to date shooting 52 percent, this is the result of the three time NBA champion getting adjusted to his Robin role to LeBron's batman. Not exactly a sharpshooter, Dwayne excels with his still tremendous athletic ability, basketball IQ and heart to sacrifice his body for the benefit of the team. Expect Flash to be back into his old self this season.
2. James Harden - Houston Rockets
The Western Conference will fear the beard this season as he could become an All-Star starter as a result of the Kobe Bryant injury. I would be lying if I told you James Harden was going to perform as well as he did last season. The former Arizona State guard averaged 25.9 points per game, 5.8 assists, 4.9 rebounds while getting 1.8 steals per game. Harden is a versatile two guard, with the ability to operate an offense as well as being the main option and is also an underrated perimeter defender. The burden he had to carry for his team was heavier than his facial hair, Harden did not have much help on the offensive end which lead to a bittersweet exit at the hands of his former team Oklahoma City Thunder. Dwight Howard will provide the help offensive end giving Harden an option on fast breaks as well as pick and rolls and should take some ease off of him on the defensive end knowing he has a player who can consistently man the paint. The Rockets have not had this good of a shooting guard since Tracy McGrady, now the mission is to do something T-Mac has never done and that is to bring Houston past the first round.
3. Monta Ellis - Dallas Mavericks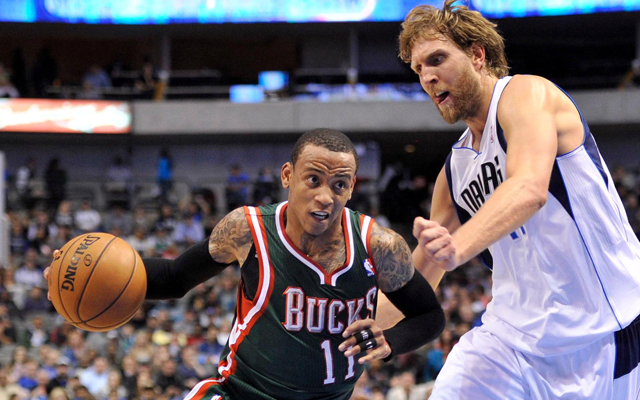 Say what you want about Monta Ellis, this former Lanier high school graduate can put the ball in the basket. Monta Ellis recently signed with the Dallas Mavericks and should have more success with the Mavs then his tenure with the Bucks. During his last season with the Milwaukee Bucks, Ellis averaged 19.2 points per game and 6 assists along with a guard that has a similar style of play in Brandon Jennings. Ellis should have more success with Dallas with a pass first point guard in Jose Calderon and is expected to be the Mavs leading scorer.
4. Manu Ginobili - San Antonio Spurs
Just like Dwayne Wade, Manu Ginobili looked like a shell of his former self in the NBA Finals. Battling with a bevy of injuries as well, it was a tough time for the Argentine producing 11.5 points per game on just short of 40 percent shooting in 26 minutes of play. However, Manu did show glimpses of the old such as his 24 point explosion in the Spurs winning effort against the Miami Heat in game 5 as well as a 18 point outing before falling to the Heat in game 7. With Marco Belinelli coming on board, Man Ginobili should have a lesser workload which means more time to rest and better efficiency. His game is not heavily reliant on his athleticism rather than his craftiness and technique so with injuries aside, look for the Spurs to become the big three once again.
5. Tyreke Evans - New Orleans Pelicans
The second major transaction after the trade for Jrue Holiday, Tyreke Evans is eager to prove that he is still the same player that was highly regarded during his rookie year. The former Memphis combo guard had a solid year during his last season with the Sacramento Kings. The 24 year old contributed 15.2 points per game on a career high 48 percent field goal percentage. What is also to note about Tyreke Evans is his versatility, Evans can pay three positions on the court, contribute in rebounding and assists. The Pelicans has recently stated that Evans
will come off the bench
, which will provide the second team with somebody, who can take the ball to the basket, play off guard or run the point if need be and will bring much added depth into the second unit. A bold prediction yes, but Tyreke Evans is in a perfect position to win sixth man of the year and regain that swagger that made him rookie of the year.
The Big Question Mark - Kobe Bryant - Los Angeles Lakers
While creating this list, the most difficult decision I had to make is where do I put Kobe Bryant on this list? If not for the torn Achilles, Kobe Bryant would have been 2nd on the list behind Dwayne Wade (argue all you want). With the torn Achilles, I had him after James Harden. With recent developments of
another knee procedure in Germany
, I decided to keep him here as a glorified honorable mention until we are sure he can be healthy for the first half of the season. We all know what happened to
Andrew Bynum
.
Other Honorable Mentions
Eric Gordon - New Orleans Pelicans
Has not been the same player since coming back from a right knee injury that got him sidelined for 57 games during his first year with New Orleans in the 2011-2012 season. Gordon has also been dealing with chronic ankle injuries that he had arthroscopic surgery on in May. Can the former Hoosier guard put these injuries behind him and return to the player he was during the 2010-11 season with the Clippers?
Jamal Crawford - Los Angeles Clippers
Known for his killer ball handle and knack for scoring, the Seattle born combo guard has come a long way in the league since being drafted by the Chicago Bulls 8th overall in 2000. Jamal Crawford has become one of the top sixth men in the NBA but at that age of 33, can he maintain that level of production?
J.R. Smith - New York Knicks
During the off-season, J.R. Smith underwent
patella tendon surgery
that will keep him sidelined for 12-16 weeks. The defending NBA Sixth Man of the Year would of been my number five on my list, but unfortunately Knicks fans should only expect him to be back in action during the second half of the season.
OJ Mayo - Milwaukee Bucks
Mayo was really Jeykll and Hyde last season with the Dallas Mavericks. Before the All-Star break, OJ Mayo was averaging 17.9 points per game while shooting 46 percent from the field and 41 percent from downtown. After the break, the former USC guard averaged a meager 10.9 with his field goal percentage dipping just under 42 percent. Mavs coach Rick Carlisle even
questioned his ambition
playing against his former team, the Memphis Grizzlies. With Monta Ellis and Brandon Jennings gone, OJ Mayo has a chance to be the man in Milwaukee, will he take that opportunity?
Joe Johnson - Brooklyn Nets
Despite
breaking ankles and hitting clutch shots
, Joe Johnson has been largely disappointing during his first year with the Brooklyn Nets. Most of the disappointing play was in part due to the lack of chemistry between him and Deron Williams. During his time with the Atlanta Hawks, Joe Johnson morphed from a spot up shooter in Phoenix to an isolation scorer in Atlanta, with Deron Williams dominating the ball and running the offense,it was hard for the 32 year old to get in rhythm. Add to that Paul Pierce, Kevin Garnett and Jason Terry, where will the six time All-Star fit in?
NBA Top 5 PGs for the 13-14 Season