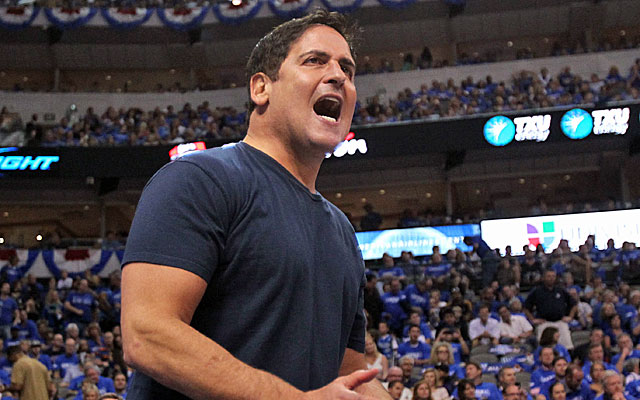 This guy is in the business of winning championships.
The Celtics are in rebuilding mode and their best player is on an expiring contract and not necessarily playing in the team's best interest. Despite many disagreements, Danny Ainge did what is best for the franchise.
Mavericks general manager Donnie Nelson did what was best for his franchise as he added a piece to a team looking to win another championship. While Rondo may not be the easiest player to deal with on the court and off the court, Dallas Mavericks are in a win-now situation and adding one of the better point guards in the NBA was a necessary move for a team who is playing in the toughest conference in the league.
How well is Rondo fitting with the Mavs
The Dallas Mavericks have been 3-2 since acquiring Rajon Rondo. Over the course of those four games, Mavs coach Rick Carlisle has been experimenting how to use the former Celtic point guard. During those five games, Rondo has averaged 13.6 points per game 6.2 rebounds and 8.4 assists. His best game came most recently December 26th against the Los Angeles Lakers.
Rondo scored 21 points on 59 percent shooting, dished out 7 assists and grabbed 8 boards. Like I said, Rajon Rondo is a ball dominant point guard, in order to play his best he needs the ball in his hands to operate. At least that is just common thought as Rick Carlisle had Rondo running off screens, cutting inside and operating from mid range while other ball dominant guard Monta Ellis had the ball in his hands.
At first when Rondo got traded to the Dallas Mavericks, my first thought is that Monta Ellis would have to be relegated to sixth man to get most of his effectiveness. Monta Ellis is a flat out scorer but not like the prototypical two guard who constantly runs off screens. Monta Ellis scores by operating as the primary ball handler, which clashes with Rondo as the primary ball handler.
Rick Carlisle played around with the rotations pairing Ellis with a lower usage point in Devin Harris and Rajon Rondo with a point guard comfortable playing off ball in JJ Barea. It proved effective for Carlisle as it gave the Mavericks an extra dimension as both guards excelled in the rotations.
Against Oklahoma City Thunder yesterday, Rick Carlisle elected to use a small lineup of Rajon Rondo, Monta Ellis, JJ Barea, Chandler Parsons and Dirk Nowitzki all on the court at the same time! What resulted was 22 points in the first five minutes of play as the Mavericks offense were playing at a tempo Jeff Hornacek and the Phoenix Suns would be proud about.
What Dallas has is five different guards in Rondo, Ellis, Barea, Harris and Felton that can be interchanged and have different skill-sets making the Dallas Mavericks a faster team.
While Rajon Rondo may have not been good for the young rebuilding Celtics team at this stage of his career, he is a positive addition for the Dallas Mavericks.
While consistently working with Monta Ellis may take some time to get used to, the pick and roll between Rondo and the Big men Dirk Nowitzki and Tyson Chandler is nearly unguardable.
Rondo and Dirk gives the Mavs a pacy point guard driving to the lane with one of the best shooting bigman of all time popping out for a jumper.
Think of the days when Tyson Chandler had Chris Paul at point guard for the New Orleans Hornets, that spike in offensive production for Tyson will have a similar effect with Rondo at the helm.
Dwight Powell may be a forgotten member in the trade but could play a role for the Mavs.
Enter Dwight Powell
Speaking of small lineups, Tyson Chandler did not play that game against the Thunder due to back spasms. After Dallas traded Brandan Wright, they are lacking depth behind the center position. Mark Cuban even said that his Dallas Mavericks have been looking at the 36 year old
Jermaine O'Neal
. As I said in Part 1, Brandan Wright is a rim protector and to have that as a backup is a valuable asset.
Although the Dallas Mavericks may have found a gem in the acquisition of big man Dwight Powell. The Canadian
tore it up
playing for Dallas Mavericks' D-League affilate Texas Legends Saturday Night. Dwight Powell was a player that the Mavericks wanted in the trade and would accept the deal without him. Powell is a 6'11 240 pound big man with a 7'0 wingspan and like Brandan Wright can provide length and may be the replacement Dallas is looking for.
Conclusion
While losing a key member in the squad losing Brandan Wright, Donnie Nelson and the Mavericks brass did what was best for business and now makes the Western Conference even more competitive than what it already was, Although their backup big man issue needs to be figured out if they want to go far as they can not get away using a three guard set on a consistent basis.
One has to wonder, with all the talented point guards in the Western Conference, can Rondo ever make the All-Star team again granted if he stays? Despite that, the Dallas Mavericks will be a fun team to watch.