Ladies and gentleman, the Premier League is back in full swing coupled with an abundance of scoring, bending free kicks and upsets. A couple of debutants have already made a name for themselves. And with that, lets get this Premier League season under way.
Saturday, August 17
Gooner fan gives Arsenal manager Arsene Wenger some advice on his transfer policy.
Arsenal 1-3 Aston Villa (Giroud 6 / Benteke 22, pen 61, Luna 85)
Perhaps the most shocking scoreline of all this week but if you watched the game it would of been easier to understand. With the new introduction of goal line technology, Arsenal might be protesting an instant replay for penalities after conceding two of them. The first penalty was the result of an obvious late dive by Wojciech Szczesny in an attempt to deny the pacey Gabriel Agbonlahor. Belgian Christian Benteke rebounded off his own missed penalty to equalize an early Giroud goal. Referee Anthony Taylor once again awarded another penalty decision, carding Gunner defender Laurent Koscielny in the process. This penalty was by far more controversial than the last one and if you look at the replay Koscielny made a perfect tackle on Gabriel Agbonlahor who seems to have a knack for getting the referee's attention. Anthony Taylor waves the protests and gives Koscielny a second yellow which eventually leads to an easy Antonio Luna finish. Although Aston Villa had obvious help, they were also the better and more incisive team that Saturday running at the defense at will. Arsenal also picked an injury to youngster Alex Oxlade Chamberlain which could not have happened at a worse time as Arsenal face Fenerbache in an UEFA Champions League qualifier Wednesday.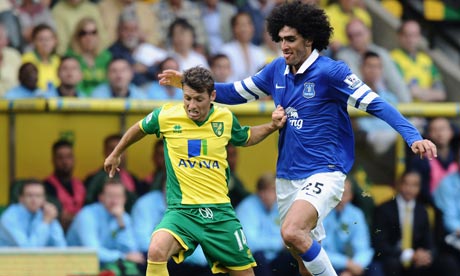 Norwich midfielder Wes Hoolahan holding off the mammoth Marouane Fellaini
Everton 2-2 Norwich (Barkley 61, Coleman 65 / Whittaker 51, Van Wolfswinkel 71)
These two teams had their fair share of shake-up this offseason. Norwich had more than a few transfer signings and a manager switch for Everton as former Wigan gaffer Roberto Martinez takes charge. Upon watching the game, it was easy to notice the different style of play under the Spainard, playing the ball on the ground a lot more looking for possession. Norwich noticeably looked a much stronger team than last season, boasting pace that was effective on the counter. Steven Whittaker took proceedings early with a strike in the 51st minute, Barkley responds with an absolute screamer with his left foot for his first career Premier League goal, Coleman routs with a tap in on the 65th and newcomer Ricky Van Wolfswinkel scores a header off a Whittaker cross to seal the eventual draw at Carrow Road. Ross Barkley is my man of the match constantly threatening the opposition goalkeeper with powerful long shots. Barkley at only 19 years old could be the breakout player of this season and could be relied upon more if Marouane Fellaini eventually gets sold. Highly rated La Masia youngster Gerard Deulofeu did not make an apperance on the pitch but should be a player to watch in the coming weeks.
Liverpool 1-0 Stoke (Sturridge 37)
With Liverpool trying to survive six games without Luis Suarez. Kolo Toure who had been seemingly forgotten in Manchester City, came close to scoring after hitting a header on the post. Dainel Sturridge had a goal disallowed but gave Liverpool the lead in the 37 minute. An accidental handball in the box by Dainel Agger gave Stoke City a chance to equalize from the penalty spot only to be saved twice by former Sunderland man Simon Mignolet who was noticeably enthusiastic in his debut. Stoke City looked more like the Stoke of old under new manager Mark Hughes being hard to crack on defense but unimaginative on offense. Liverpool's attackers Iago Aspas and Daniel Sturridge could take on the burden if Luis Suarez eventually moves on.
Match winner for club and country, better late than never for Rickie Lambert.
West Brom 0-1 Southampton (Lambert pen 90)
West Brom hosted a young Southampton side and it would prove youth would prevail. Southampton had a number of chances to get in front of the Baggies but had a goal hit the post by Jay Rodriguez and an offside call on a 33rd minute finish by Adam Lallana. This game was the spotlight of 18 year old left back Luke Shaw who looks certain to take over the reigns of England's fullback position once Ashley Cole and Leighton Baines move on. Luke Shaw constant runs got him brought down by West Brom's Youssuf Mulumbu in the box to set up a Rickie Lambert penalty. West Brom's Nicolas Anelka makes a return to the Premier League but was largely ineffective, Southampton debutant Dejan Lovren was largely to blame for that breaking up many attacks from the back. Having Gareth Bale, Theo Walcott and Alex Oxlade-Chamberlain come through the ranks of the Southampton academy, the Saints are looking to keep their young players this time as they certainly have potential to be an upper-tier English club in the future.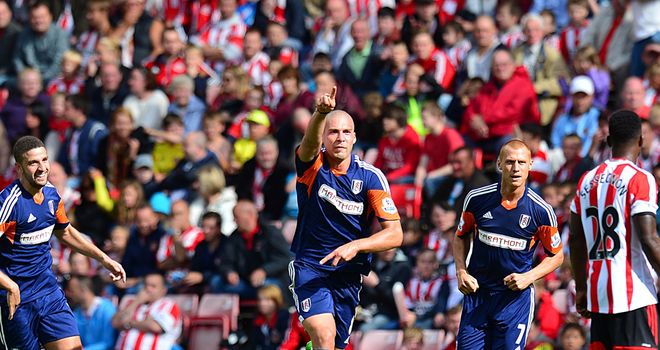 21 year old Patjim Kasami after scoring his first goal for Fulham.
Sunderland 0-1 Fulham (Kasami 52)
A debut league return for American striker Jozy Altidore failed to capitalize off his amazing international run of scoring goals. The new Sunderland striker was giving the Fulham defense problems with his athleticism but could not help the Black Cats pull away. Fullham's new goalkeeper Maarten Steklenburg made an impact stopping a 25 yard shot from Ondrej Celutska. Sunderland may had the better game, but it was Patjim Kasami to win for Fulham with a header from close range off a Damien Duff corner. Sunderland survived relegation last season and will probably struggle to survive this season.
Premier League veteran Joe Cole puts West Ham in front.
West Ham 2-0 Cardiff (Cole 13, Nolan 76)
The newly promoted Cardiff City faced off against last season's promoted team West Ham United and it was the latter who acquired the victory. Cardiff's new signing Danish striker Andreas Cornelius did not make his debut due to injury and that proved all the difference as Cardiff could not generate much attack up front. Experienced midfielder Joe Cole scored a fine finish past opposition goalkeeper Andy Marshall to put West Ham up one and Kevin Nolan ended proceedings with a first time shot in the 76th minute. Both clubs are expected to fight relegation this season and West Ham survival will also rely on a now permanent Andy Carroll who was also missing in action to injury.
Danny Welbeck starts his Premier League season in style scoring more goals than all of last season
Swansea 1-4 Manchester United (Bony 82 / Van Persie 34, 72, Danny Welbeck 36, 90)
David Moyes could not have started any better with Manchester United getting a big win against Swansea away from home. In terms of tactics, not much have changed as Manchester looked like much of old and Robin Van Persie looked like the world class scorer he is. The Dutchman netted 2 goals including an downright deadly left footed finish in the 72nd minute. Swansea's defense was questionable, why on earth would any team not mark Van Persie's left side? You are just asking to concede a goal. Danny Welbeck made the start over Wayne Rooney(who's the subject to transfer rumors to just about every top English team), scored two goals as well with a cheeky chip in the 90th minute. Wilfred Bony gave Swansea some dignity pulling an placed finish in the 82nd minute after coming close on numerous occasions after coming on as sub. Speaking of Wayne, he came in on the pitch as a sub as well but was overshadowed by the other aforementioned strikers; Welbeck and Van Persie.
Sunday, August 18
Roberto Soldado(Center) and company celebrating after scoring a penalty against Crystal Palace
Tottenham 1-0 Crystal Palace (Soldado pen 50)
Despite the absence of superstar Gareth Bale to "injury", Tottenham managed to gain a narrow win against the newly promoted Crystal Palace. Roberto Soldado who is my pick to challenge Robin Van Persie for goals, scored the only goal via penalty from Crystal Palace's full back Dean Moxey's handball. Crystal Palace was a little unfortunate playing a defensive approach that forced the Spurs to multiple long shots.
Crystal Palace looked more lively in reponse but Tottenham managed to control the match and seal the victory. There is no question Soldado is a quality player and Paulinho(right) is also another excellent addition in attempts for Andre Villas-Boas to finally surge the Hotspur to Champions League qualification. However, if Gareth Bale does not stay with Tottenham, that can prove all the difference from the Champions to the Europa League.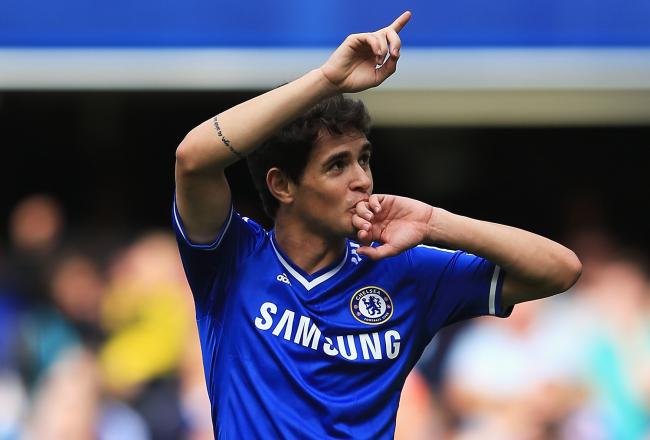 Oscar scoring the first Premier League goal of Mourinho's second reign in Chelsea.
Chelsea 2-0 Hull City (Oscar 13, Lampard 25)
Every Chelsea fan in the world was anticipating the debut of the self proclaimed "Special One" Jose Mourinho. When interviewed, Jose shrugged off the pressure and said this match was about the players and how they perform rather than being about him. Whether we believe that is up to debate, but the talent of Chelsea was on full display with Oscar making a nice run into the box, received a beautiful Kevin De Bruyne and slid the ball past the keeper to start of the return of the Portuguese manager. Twelve minutes later, Lampard scored a goal of the year contender with an unblockable free kick in the 25th minute. The long tenured Chelsea man was under constant speculation of leaving Chelsea last season but it seems like he's been assured as an important piece in Jose Mourinho's plans.
Monday, August 19
David Silva scores the first of many Pellegrini goals
Manchester City 4-0 Newcastle United (Silva 6, Aguero 22, Toure 50, Nasri 74)
A plethora of goals were scored at the Eithad Stadium in the expense of Newcastle United. Manuel Pellegrini also made his Premier League manager debut and Manchester City looked as passionate as ever, something that was missing under Roberto Mancini. David Silva was at the right place in the right time scoring a ricochet header in the 6th minute. In the 22nd minute Sergio Aguero scored a classy finish from the edge of the box to rout on the scoreline. In the second half, Yaya Toure converted a curling free kick, debutant Alvaro Negredo came on late in the game to have a goal denied by being narrowly offside and lastly a harder working Samir Nasri also came on as a sub and finished the onslaught with a simple finish in the 74th minute. Despite conceding four goals, Newcastle goalkeeper Tim Krul was their best player as they could have easily conceded alot more. Krul stopped mulitple shots from Edin Dzeko who has to be frustrated for not scoring but has to be happy winning the man of the match award for creating two goals. Manchester City looked every bit of a title contender and Newcastle looked like the same team who severely underacheived last season. Yohan Cabaye did not make an appearance apparently being the subject of a transfer bid from Arsenal and his absence affected Newcastle emphatically lacking creativity in the middle of the park. If Newcastle performs how they did last season, the French Revolution may be cut short and Alan Pardew's job will be in question.
With the full week of matches out of the way, here's how the Premier League table looks at the moment.
Best Player of the Week: Robin Van Persie, Man United
Best Under 21 Player of the Week: Ross Barkley, Everton