 A Vegas Summer League commended at the night of July 20 where we saw
Becky Hammon
and the San Antonio Spurs make history. There were some highs and lows in the Summer League. We saw the top picks,
Karl Anthony Towns
,
Jahlil Okafor
,
DeAngelo Russell
etc. and while they may have not been the most consistent shown glimpses of their immense potentials. I choose to do this a week after the Vegas Summer League to give you an update if the top performers of the Summer League has gotten a reward for their hard work and effort and received a NBA contract or earned a bigger role on their roster.
11. Larry Drew I1
Position: Point Guard
Summer League Stats: 9.0 PPG 3.5 REB 7.8 AST 42% FG
Larry Drew II plays like what you would imagine a coach's son would play. He was a true floor general during the Las Vegas Summer League, while he only averaged 9 points a game, he made a bigger impact on the floor with his passes, what is best about Larry Drew's playmaking ability is his timing. He was always in control throughout and knows the perfect window to lay the assist. He broke out with a Summer League high 16 assists against the Brooklyn Nets. While Larry Drew II did not land on an NBA squad,
he signed with French club AS Monaco.
10. Doug McDermott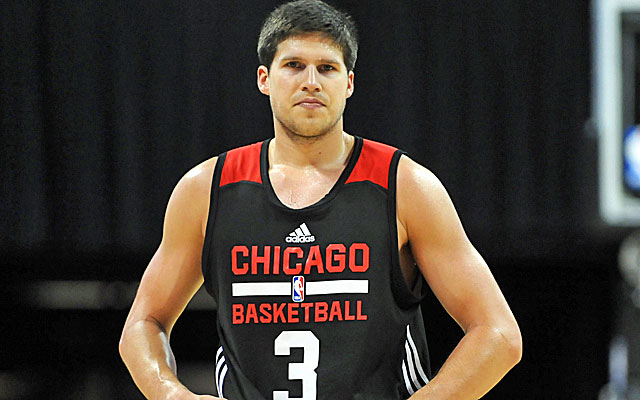 Position: Forward
Summer League Stats: 18.8 PPG 4.4 RPG 1.0 AST 48% FG
After getting drafted with the 11th pick of the 2014 NBA Draft, McDermott's rookie season got marred by injuries and saw fellow Bulls 2014 rookie Nikola Mirotic overshadow him as the shooter on the team. McDermott needed this summer league to prove that he can translate his skills that made him win the 2014 consensus National Player of the Year while in Creighton. McDermott showed an array of skills, such as scoring off the dribble, driving to the basket and playing in the post, benefiting tremendously in new Bulls head coach Fred Hoiberg's new offense. McDermott did not shoot well beyond the arc(13% 3PT) but he is a natural shooter so you don't have to worry about that part of his game. Dougie McBuckets may be the Chicago Bulls "new signing" this coming season.
9. Dwight Powell
Position: Forward-Center
Summer League Stats: 18.8 PPG 9.2 RPG 2.5 AST 1.0 STL 43% FG
Welp Mavs fans, you still got something out of the Rondo trade, Dwight Powell continued to dominate behind the scenes from D-League to Summer League. Dwight Powell is quite the unique player, he is a 6'11 230 pound bigman with the skillset of a guard. He can put the ball on the floor, create for others and even step out for the three point shot. This rare breed of skills combined with his 7'1 wingspan makes Dwight Powell an intriguing prospect. Dwight Powell hopes to crack the rotation in what looks like a transition year for the Dallas Mavericks.
8. Emmanuel Mudiay
Position: Point Guard
Summer League Stats: 12.0 PPG 3.5 RPG 5.8 AST 1.2 STL 39% FG
Emmanuel Mudiay is the only first rounder of the 2015 NBA Draft to make this list. Mudiay wowed everybody July 12th against the Sacramento Kings with 19 points and 10 rebounds. Mudiay's ability to run the break with his change of direction is reminiscent of many of the top point guards in the NBA today like John Wall and Russell Westbrook. Mudiay excels in high speeds what he does have a problem with is slowing that speed down and playing more controlled leading to him averaging 5 turnovers a game in Vegas. Once Mudiay learns how to play consistently at different speeds, he has the potential to be one of the upper tier point guards of the NBA. Widely expected to be the Denver Nuggets opening day starting point guard.
7. Alan Williams
Position: Forward-Center
Summer League Stats: 20.8 11.8 RPG 2.0 AST 1.0 STL 50% FG
Alan Williams was apart of the Orlando Pro Summer League with the Charlotte Hornets however, did not have as much playing time to prove himself, so he hopped on the Houston Rockets' Vegas squad and never looked back. At 6'8, 261 the former UC Santa Barbara standout used his girth to out-muscle everyone and anyone that opposed him in the paint. Despite his size, he hustles for every loose ball grabbing almost 12 rebounds a game and adding a steal. Alan Williams has his limitations as he is as "below the rim" as they come but that did not stop him from
dominating Hasheem Thabeet and the D-League select team
. Alan Williams like Larry Drew followed suit overseas and
signed to play in China
for his pro venture. Hey, if
Stephon Marbury
can get paid, why can't he?
6. Jonathan Simmons
Position: Forward-Guard
Summer League Stats: 17.0 PPG 4.0 RPG 3.0 AST 1.7 STL 52% FG
Simmons is the only player not named in the Las Vegas Summer League All-Team list to make this ranking. However, his play in the Vegas final is what made Becky Hammon and the San Antonio Spurs win the gold with Simmons winning the Final MVP. Often coming off the bench, Simmons gave the Spurs an instant spark whenever he comes on in the floor. The 25 year old signed a 2 year contract to remain with the Spurs and head to training camp. The way he was used in Vegas off the bench reminds me of a young Stephen Jackson during his first stint with the Spurs and it looks like Greg Popovich may have another ace up his sleeve.
5. Noah Vonleh
Position:
Forward-Center

Summer League Stats:
17.2 PPG 8.5 RPG 56% FG 50% 3PT
On June 24th, after a just a year in the Charlotte Hornets getting drafted with the 9th pick in 2014, Noah Vonleh was dealt to the Portland Trailblazers along with Gerald Henderson in exchange for Nicolas Batum. LaMarcus Aldridge also decided to leave the Trailblazers to build on his championship aspirations with the San Antonio Spurs. Noah Vonleh after a terrific summer league is seen as the replacement for the 4 time NBA All-Star. Vonleh shown an array of skills that made him highly touted of Indiana. Whether if it was stepping out for 3, running the pick and roll or using his post skills which are pretty advanced for his age. Vonleh doesn't make a similar impact on the defensive end of the floor but that can come with time just like it did for Aldridge. It will be unrealistic to envision him as a direct replacement for LaMarcus, but the Portland TrailBlazers may have got a coup with this trade.
4. Norman Powell
Position: Guard
Summer League Stats: 18.2 PPG 4.0 RPG 1.5 STL 1.5 BLK 51% FG 44% 3PT
Norman Powell excelled as one of the best two-way players in college basketball and did not miss a beat in Vegas as he filled up every area of the stat sheet. What couldn't not do in Vegas? He played lockdown defense, got nearly a couple of steals and blocks per game and created a
dunk mixtape
against Houston. Powell shown another reason why your draft stock should not be knocked down just because you're a college senior. He might be the biggest second round steal in the draft, he did not just show off potential as a rotation player in the NBA, he shown he could probably be a starter down the line. He has no athletic limitations as he is one of the more athletic players in the draft, he has a developing jumper and can take his man out of the game on the defensive end. If he was 19 with this skill set, he would have been a lock for the lottery. The Raptors gave Powell a three year partially guaranteed contract and could have a role immediately on the team as a perimeter defender.
3. T.J. Warren
Position: Forward
Summer League Stats: 18.3 PPG 3.6 RPG 1.3 AST 1.1 STL 1.1 BLK 54% FG
T.J. Warren is a microwave on the offensive end as he can heat up in a hurry just as he did against Chicago in the Suns 91-84 win as Warren scored 31 points. Warren at 6'8 215, is deceptively quick and has decent ball handling skills that allows him to get to the basket and draw fouls or pull up with the mid-range jumper. Warren is like old-school 3 in the NBA, he doesn't operate from the three point line, he didn't even make a three in Vegas but gets most of his shots from inside the arc and he was pretty efficient with it. However in this modern day NBA he may need that three point shot as a part of his game especially to play with Brandon Knight and Eric Bledsoe two guards who are already slashers. T.J Warren at this stage of his game would be a great fit at the 4 spot like other converted 3s such as Jeff Green and Thaddeus Young. His quickness and ability to take his man off the dribble will cause mismatch problems over slower 4s. He is expected right now to get a big role off the bench for the Phoenix Suns.
2. Seth Curry
Position: Guard
Summer League Stats: 24.2 PPG 4.3 RPG 2.7 AST 3.2 STL 46% FG
Seth Curry made such a huge impact in Vegas that Drake almost contemplated remixing 0 to 100. The younger brother's improved play in the Santa Cruz Warriors has followed him to Vegas and put opposing defenses on notice with his ability to create his own shot. Coming out of Duke in 2013, everybody knew Seth Curry can shoot, it was the other parts of his game that was underdeveloped and while he may never be a floor general, he has impressed with his ability to get to the line and also be a pickpocket in the defensive end. Seth Curry wasn't even shooting that well on his jumpers and still made an impact scoring off the dribble and driving the lane something he was not able to do in the past. Seth Curry has finally got rewarded with a 2 year deal with the Sacramento Kings and will project as a scoring spark off the bench. He did shoot 22% from beyond the arc but have you seen his last name? That is not something to be worried about.
1. Kyle Anderson
Position:
Forward

Summer League Stats:
21.9 PPG 6.0 RPG 1.9 AST 1.1 STL 45% FG
The Las Vegas MVP is the #1 top overall performer in the rankings, showing why the San Antonio Spurs drafted him with the last pick in the first round of the 2014 NBA Draft despite his "athletic limitations". Nicknamed "Slow-mo" Kyle Anderson just moves around the court effortlessly in a smooth way that doesn't get the eye but gets the result. He is an extremely smart player on the offensive end as he can run an offense as well as be an effective off-ball player allowing him to play from the 1 to the 4 spot. He obviously didn't get the memo that the NBA game is much faster, but then again
who needs to tell him
? The Spurs are very deep in the depth chart and already duplicates the abilities of teammate Boris Diaw, but could look at backup minutes for
Kawhi Leonard
plus Popovich is always resting his players.