 The NBA Draft where the story begins...
Despite the NBA, NFL and all the major soccer leagues concluded to an end, this is my favorite part of the year, the NBA Draft. I've been closely following the NBA Draft since I was a kid, the prospects, mock drafts, talk shows etc. From pleading in my bedroom for my Atlanta Hawks to draft Chris Paul over Marvin Williams to saying that Michael Beasley was the best player of the 2008 draft class.
It's just that thing, the NBA Draft (well all drafts for that matter) is a glorified guessing game for all teams in their respective leagues. In the NBA's case, the 14 teams that did not make the playoffs are drawn into a lottery with the worst having the highest percentage and second worst having second highest percentage and so on, this system (while Knicks fan are not too fond of it) is a fair system that does not allow teams that tank to always get what they want (just ask Knicks fans).
There is alot of player archetypes going on in every draft year, from the sure things to the players that could be the difference to you losing your GM job. The draft provokes a reaction from fans and players alike from fans booing the top commish every time he steps to the
podium
, to a player
questioning
their team's draft pick whom was deemed
"two years away from being two years away"
.
The 2015 NBA Draft is full of different type of players that can change a team's fortune for better or worse. While I don't believe this draft will end up like the 96 Draft or the 03 Draft this will be one of the more solid draft classes we've seen (certainly better than the last two years).
In this article, is a grouping on where the players stand in the NBA Draft from my viewpoint.
FUTURE STAR
Possesses all the athletic traits and skills to be a perennial All-Star in the NBA. This is the player(s) who have all the tools in regards to be a household name in the NBA.(ex. Anthony Davis, Andrew Wiggins, John Wall, Kevin Durant)
.
F/C Karl-Anthony Towns - Kentucky
Karl Towns has shown through his time in Kentucky he can be a game changer defensively. At 7'0 250 pounds, Towns has the mobility and size that NBA scouts want in a bigman, and the skill that someone with his raw talents usually lack at his age. Already projects as a elite shot-blocker (2.2 in 21.1 minutes), excellent jumpshot from mid-range and is also an good free throw shooter (81.3 FT percentage). His weaknesses are his post game and foul trouble but two aspects that can easily improve with further coaching. He might not get the big scoring numbers as a Anthony Davis, defensively he can be just as much of an impact. His quickness just like Davis allows him to play the four and five spot.
HIGH CLASS
Can't miss prospect who has the potential to be one of the better players of the NBA. May not be a household name but talent level is a in the NBA, Skills are already extremely polished to make an impact on the NBA but not as high of an upside as the future star. May have limitations that are holding him back. (ex. Al Horford, Al Jefferson, Jimmy Butler, Brook Lopez)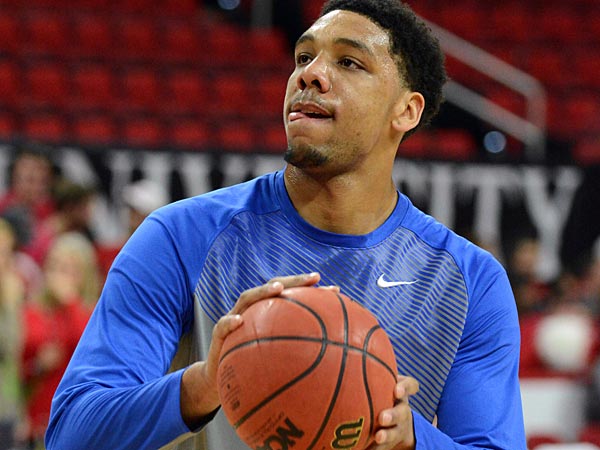 C Jahlil Okafor - Duke
I first watched Okafor live in the 2014 Jordan Brand Classic at the Barclays Center, and I came away amazed that someone his age can be so seasoned and polished. His post moves were already NBA caliber, it was almost like watching Steph Curry's jumpshot if you are all about the fundamentals like I am, the way he recognized defenses no wasted movements, knew when to fade knew when to go inside he made it look so effortless, So why I do I not have him at Future Star you ask? It is because I am not sold on how much he will improve. Jahlil Okafor reminds me of a slower LaMarcus Aldridge/Al Jefferson hybrid which means I believe he can be a 20 a game scorer but lacks the defense intensity to be an interior force and lacks the foot speed to play in a fast pace tempo or to play the four spot. Jahlil Okafor always dominated as he usually had a considerable size advantage over the person opposing him, how will he fare against opposition his own size? Jahlil Okafor grades out as the most NBA ready prospect but does not have the potential as a Karl Towns.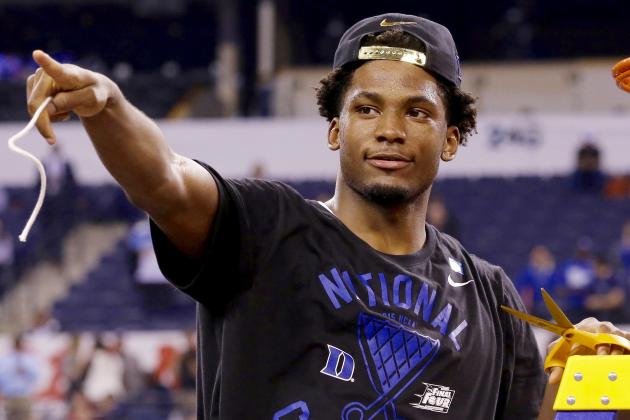 G/F Justise Winslow - Duke
Jahlil Okafor's right hand man also grades out as a High Class prospect. He can do all the little things and was every bit as important to Duke's National Championship run as Jahilil Okafor. What I like most about Winslow is that he already possesses the strength needed to be a NBA swingman, he uses that size to be an excellent defender that can guard all perimeter positions even well as a power forward. The fact that he may be a 2 guard in the NBA but was able to play the 4 spot in the NCAA is a testament to his strength and post defense. Winslow is also a better scorer than given credit for, what he lacks is the ability to create his own shot but is a good spot-up shooter hitting 41.4 percent of his three point shots in college. Winslow's projected draft range is 4-8 with 4 being a slight reach, however Winslow's game reminds me of a Kawhi Leonard/Jimmy Butler on the high end with Wilson Chandler being the low end and should be paid closer attention to.
SUPER SCORER
These guys can flat out put the ball in the basket. They possess a potent jumpshot as well as the ability to create their own shot off the dribble. These guys can heat up any moment and put a scoring clinic on opposing defenses. (ex. Bradley Beal, Klay Thompson, Jamal Crawford, James Harden)
G D'Angelo Russell - Ohio State
I am extremely high on D'Angelo Russell as his position versatility and scoring ability can help any team in the top five of the draft. Russell can shoot the lights out, Russell was 41.1 from the three point line during his only year in Ohio State while attempting 7 threes a game. Russell also has the ball handling skills to create his own shot off the dribble with the ability to create for others averaging 5 assists per game. Russell just give me shades of Brandon Roy and like the former Trail-Blazer, makes up for his lack of elite athleticism with his craftiness. For critics questioning his lack of athleticism, he ranks number one in Transition Points per 40 minutes with 7.4(via Draftexpress). D'Angelo Russell will have no problems creating offense in the NBA.
G/F Mario Hezonja - Croatia(FC Barcelona)
Hezonja is a 6'8 200 Croatian shooting guard who plays for one of the best European clubs in the world FC Barcelona. Along with that size, Hezonja is a knockdown shooter and can heat up in an instant. Hezonja also benefits from his explosion and is able to finish effectively off the dribble. Think of an European J.R. Smith and that might fit the profile of Hezonja, a guy who is a microwave when hitting his first couple of shots. Like J.R. Smith when he is cold he can shoot you out of a game, as well as he has had problems with his discipline in Barcelona complaining about his sporadic playing time. Nonetheless Mario Hezonja knows how to score and that will translate to the NBA.
G Devin Booker - Kentucky
With the countless freshman that Kentucky boasts every year, there is always one or two players from each class that declare for the NBA Draft , whether it was James Young, Archie Goodwin, Daniel Orton you name it and the wonder if Devin Booker should of stayed in college another year rather than go to the NBA, There is one thing that Devin Booker does better than the last Kentucky alumni could do and that is shoot the ball. Devin Booker has a textbook shot, quick release that could fit seamlessly with the splash brothers. Devin Booker is not just the average standstill shooter, he can as well shoot off the dribble and has the off-ball awareness to run off screens to get himself open. Booker however is very below the rim and knows his limitations so don't expect him on the offensive end of a fathead. Being the youngest player in the NBA Draft at 18(will not turn 19 until October 30) Booker has the potential to be a starting 2 guard in the NBA.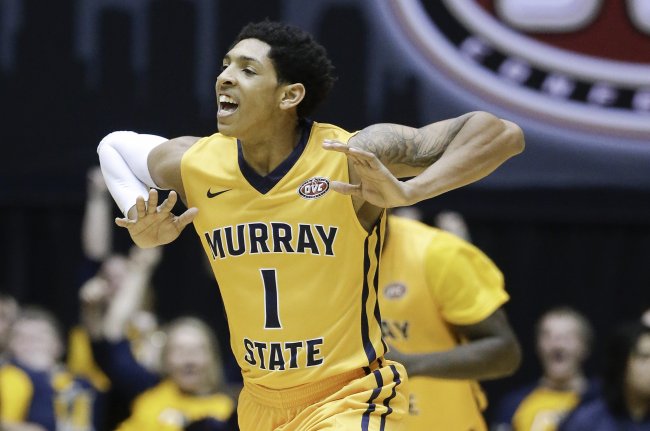 G Cameron Payne - Murray State
Cameron Payne is the next mid-major point guard to come out of nowhere to being projected in the lottery following Elfrid Payton and Damian Lillard. Payne helped lead his college Murray State to have 25 straight wins until they lost to Belmont in the conference tournament final and went to the NIT. One of the most pure skillful basketball players in the draft with his combination of ball handling skills, passing and natural scoring ability. Does not have the elite quickness of a modern NBA point starting guard but enough quickness to be a threat in the NBA level. The obvious question is the level of competition in which he has not played a top 25 squad in his two seasons of college. He obviously has been doing something well in pre-draft workouts as his stock is quickly rising.
UPSIDE
Not the most NBA ready players, but their draft stock is based on what they can become. (ex. Dennis Schroeder, Anthony Randolph, Tyrus Thomas, Russell Westbrook)
G Emmanuel Mudiay - Congo(Guangdong Southern Tigers)
Emmanuel Mudiay may have the most interesting draft storyline, he might very well be the next Blindside, but Mudiay is out to prove that he will not be a flop like the once great movie star Michael Oher. Mudiay decided to go against the grain just like Jeremy Tyler and Brandon Jennings did before him and go overseas and the once projected #1 pick over Towns and Okafor is now not even a lock to go in the top 5. Playing overseas in clubs that know you are NBA bound do not give you any favors in regards to playing time as you are not staying with the club after that season, Mudiay found it tough to garner playing time, he finally got a run of games in a lineup switch and got an ankle injury that finished his season after 12 games. Mudiay is like a poor man's John Wall, he is not as athletic as the Wizards guard, but is just as good a passer as Wall was at that age and has a similar body type. Like Wall when he was drafted he does not have a jumpshot although he improved it in China, Hawks guard Dennis Schroeder might be the best comparison for now as he probably will struggle his first season but could ultimately end up one of the top players from the draft.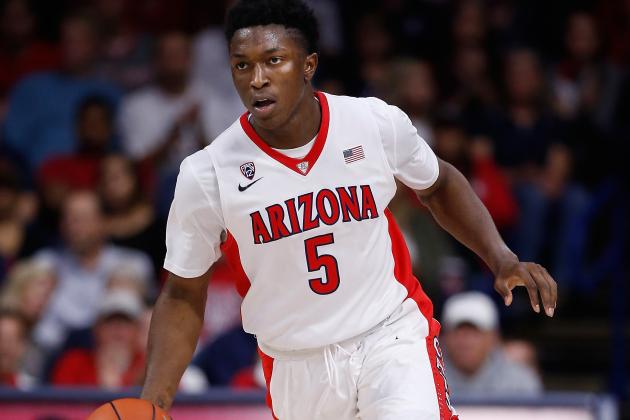 F Stanley Johnson - Arizona
There is a question on what exactly former Arizona forward Stanley Johnson will become as a NBA player. Looking at him from a physical standpoint he looks like LeBron James, he is 6'7, over 240 pounds and he has had the build since high school. Stanley Johnson struggled in the NCAA Tournament and was pretty inefficient when it came to finishing around the basket someone with his size should have no qualms with. The added size and skill in the college game resulted to Stanley Johnson not being as effective as he was accustomed to in high school. Although Stanley Johnson might benefit from the floor spacing and become a better player in the NBA than he was in college.
F/C Trey Lyles - Kentucky
Lyles shows a diverse skill-set when it comes to the offensive end. He can put the ball on the floor, has a mid range jumper, play in the post and is an good passer. Lyles is like a jack of all trades, master of none. Lyles upside is in his wingspan (7'3) and how he can be an impact defensively. He wasn't too great defensively for Kentucky but was playing in the small forward spot most of the time due to being on the same team with Karl Towns and Willie Cauley-Stein,
While he can do every bit of the offensive end well, where will his niche be in the NBA?
C Myles Turner - Texas
There always seem to be a type of player like Myles Turner, 7 foot lanky bigman with a lot of room to fill out his frame. There is one part of Turner's game that separates him from the other bigman he has a jumper that extends to college three point line. Combined he is also a good free throw shooter(shot 83.9 percent from the line), a skill that separates him from another 7 footer from the state of Texas DeAndre Jordan. Turner much like most young bigman does not have a defined post-game often electing to settle for the jumpshot. He is also more long than athletic and has struggled with better opposition(38% FG against top 100 defenses). Myles Turner with his mid-range shot and defensive potential could already find a role on a bench similar to what Clint Capela done for the Houston Rockets towards the end of the season.

F Kelly Oubre - Kansas
Kelly Oubre's draft stock fell a bit during his only college season as critics saw he wasn't as NBA ready as expected. Oubre is a 6'7 swingman with a ridicously long wingspan at 7'2 and is fairly athletic and can score in a variety ways. What Oubre lacks is polish and was often in Kansas' coach Bill Self's doghouse for his defensive lapses and questionable shot selection. Has all the tools to be a natural scorer in the NBA, may need some time to learn on the bench before he is ready to play big minutes. If he falls past the lottery, could be one of this year's draft steals.
ROLE PLAYER
NBA ready but with limited potential, key bench player or solid starter,can usually do one or two things pretty well, usually have athletic limitations or glaring weaknesses in other parts of their game. (ex. Kyle Korver, Tyler Hansbrough, Kyle Anderson, Danny Green, Tristan Thompson)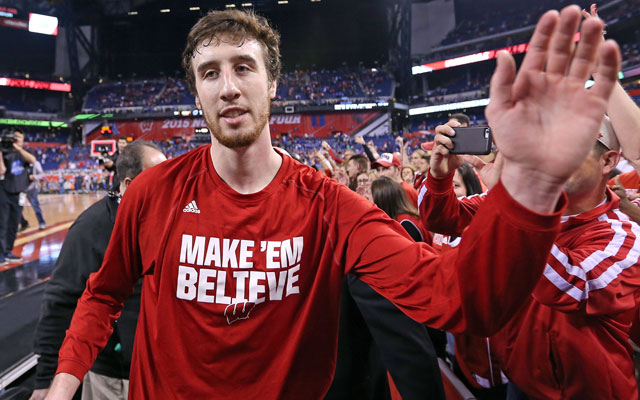 F Frank Kaminsky - Wisconsin
Frank Kaminsky was the media darling during the NCAA Tournament carrying Wisconsin along with Sam Dekker to the National stage until they lost to Okafor and the Duke Blue Devils. Kaminsky is a supremely skilled 7 footer who is one of the best three point shooters in this draft, a trait that is now coveted in today's NBA with the perimeter style bigman. Kaminsky also has a repertoire of post skills that keeps his defenders guessing. The problem is if he can score against players that are his size in the paint. During the latter stages of the NCAA tournament he has shown difficulty in scoring inside against the likes of Towns and Cauley Stein and Okafor and Marshall Plumlee where he has often times preferred to do his damage on the perimeter. He might be a defensive liability in the next level too as he lacks the strength in the post. Kaminsky could be a starter from the get-go but will have to be paired with someone else that is gritty and defensive minded to mask his weaknesses. Could be a 7'1 Ryan Anderson.
C Willie Cauley-Stein - Kentucky
Rim protection is big in the NBA as you need a key rim protector to make life harder for the LeBrons and Westbrooks of the NBA and Cauley Stein projects as a rim protector.Along with Towns created a 7 foot tower for opposing offenses. For a 7 footer with a 7'3 wingspan can also play defense on the perimeter which is rare for a player his size. Now the offensive side of his game is another side of the story but if he can keep developing his mid-range jumper would be a solid pick for a team building a foundation for the playoffs. Should not be drafted by a team expecting him to be more than what he is.
G/F R.J Hunter - Georgia State
R.J Hunter made a name for himself in the NCAA Tournament turning Georgia State into a Cinderella story along with his father and coach Ron Hunter. If it wasn't for the Baylor upset, he might not be getting this acclaim that he is getting. R.J Hunter is the ultimate 3 and D player, being a coach's son he has excellent basketball I.Q. and rotates good defensively and is athletic enough to hold his own against 2 guards and has the wingspan (6'11) to defend small forwards. Hunter may have not shot too well in Georgia State, (39.3 FG pct and 29,8 3PT) but can be contributed he was taking the bulk of the shots and defenses were keying on him. He has the mentality of a shooter though and will benefit from having less defensive pressure on him in the NBA. R.J. Hunter can shoot and draw foul shots at a good clip but is not able to create a shot off the dribble. R.J. Hunter might have the biggest draft range in the first round, with some mock drafts taking him in the lottery and others having him at 30.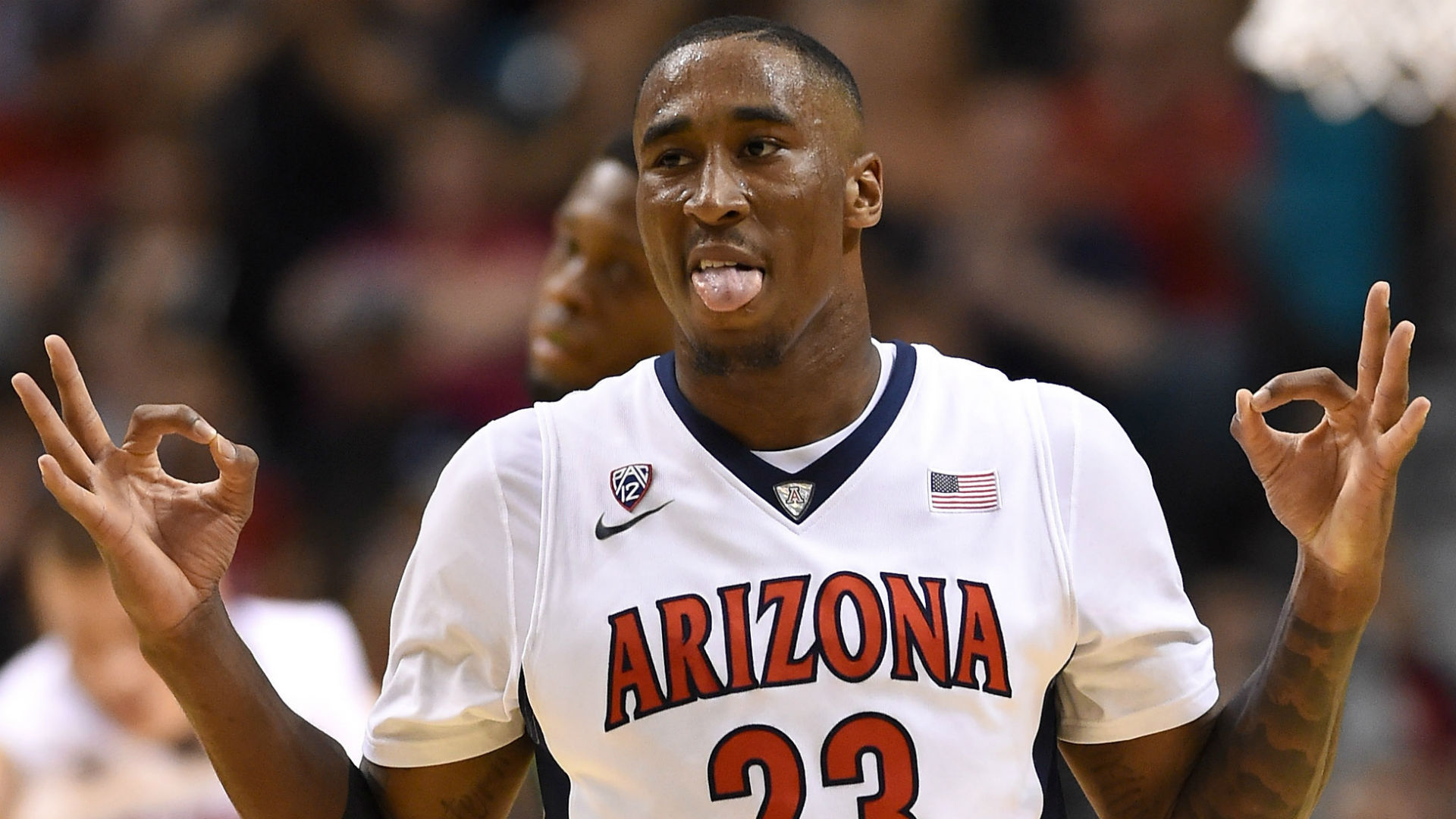 F Rondae Hollis-Jefferson - Arizona
May be the most athletic player in this draft. At 6'7 220, Hollis-Jefferson already possess the physical frame needed to defend NBA wings. Hollis-Jefferson was named to the Pac-12 All-Conference Team and the All-Defensive Team. As you seen Andre Iguodala's effectiveness in the NBA Finals, you know perimeter defense is a coveted asset in the NBA and will automatically fill a role on a NBA squad. The question on the offensive end is his shooting range on the offensive end (20.7 3pt percentage off 0.8 attempts per game). Not really much of a difference between him and Michael Kidd-Gilchrist.
F Bobby Portis - Arkansas
Solid college player who averaged 17.5 points per game and 8.9 rebounds during his time for Arkansas. Fundamental knows where to be on the offensive and defensive end. Is an inside-out player, good bigman on the pick and roll that can also fade and hit a jumpshot. Not that athletic, will not be able to impose his will in the NBA game. Reminds me of Jason Thompson.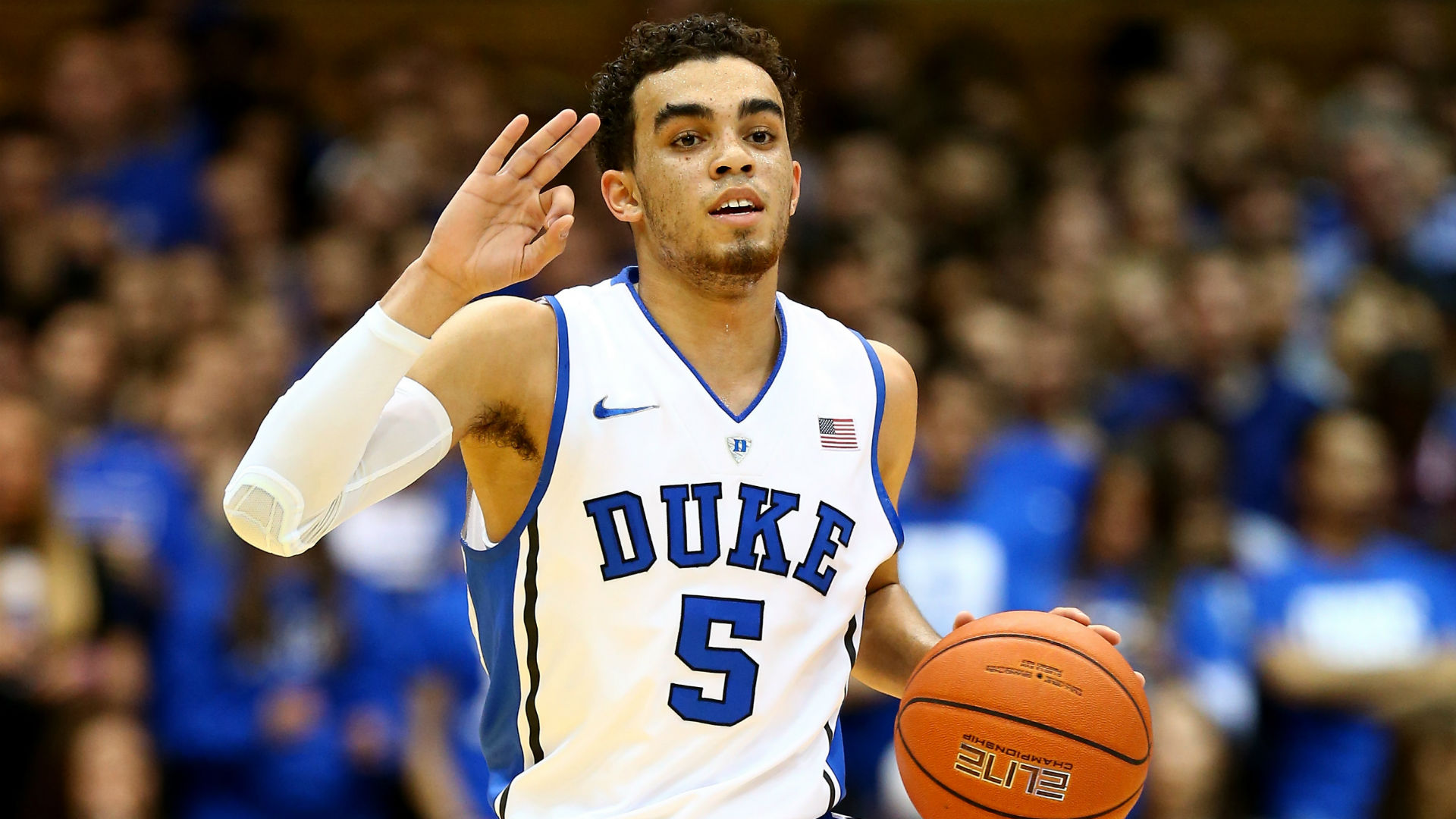 G Tyus Jones - Duke
Tyus Jones was the difference maker for Duke winning the National Championship. Despite only being 19 years old, Jones has the mentality of an college senior. He knows how to run an offense, does a great job in keeping his turnovers to a minimum and might be the most polished floor general in the draft. What Tyus lacks is supreme athleticism and quickness but that attribute may be overvalued given today's NBA point guard.
One of my sleepers in the draft, I have him listed as role player but could be a legit NBA starter. High end Ty Lawson/Andre Miller, low end Jordan Farmar.
?
Last but not least we have the question mark. This is the ultimate boom or bust prospect, a player with extreme upside but also an extreme downside. Could possibly be a superstar in the NBA or out in 3 years. GM is usually fired if it turns out to be the latter. Even riskier than the Upside player. (ex. Dirk Nowitzki, Tracy McGrady, Nikoloz Tskitishvili, Hassan Whiteside, Jan Vesely,Tyson Chandler, Hasheem Thabeet)

F - Kristaps Porzingis - Latvia(CB Sevilla)
Perhaps the biggest mystery in the NBA Draft, has little to no game film and most detail NBA teams have to go by is his pre-draft workouts. NBA teams must of came out impressed as he has risen up draft boards with even some draft pundits labeling him number 2. To be honest I am not too sold on the Latvian big man, from watching clips of his European play for Sevilla, he looks too similar to Tskitishvili and Vesely. He is a 7'1 frail bigman who likes to play like a guard and put the ball on the floor from the perimeter which he might be able to get away with that in Europe but NBA players will steal the ball in an instant. I remember Nikoloz Tskitishvili was described as a 7 foot T-Mac and Jan Vesely said one of his favorite players was Kevin Durant and he modeled his game after him. Just like Porzingis both guys were deemed athletic, has guard skills and have a similar build. What Porzingis has is a three point shot which will translate into the next level but he seriously needs to bulk up if he wants to make it in the NBA. If he cannot consistently play in the post in Europe how is he expected to do that in the NBA? He already gets overpowered in the paint and will need to improve his defensive IQ as he falls asleep defensively and does not rotate quick enough. What I like hearing from Porzingis it does seem he has a drive to be a NBA player and is not traveling to America solely for the money, a common thing a lot of International players do. It will be a mystery were he will fall, but if I was GM, I would not take the risk.
Follow me on Twitter