The start of the new 2014-2015 Barclays Premier League season begins Saturday 7:45 Manchester United versus Swansea City and just as usual many storylines come into the table at the start of the English Football season. How will Manchester United fare under the new leadership of Louis Van Gaal? How will Arsenal fare with another season of Arsene Wenger and new signings such as Alexis Sanchez and Mathieu Debuchy. Can all the star players Chelsea has at disposal can coexist? Who will be their goalkeeper? These questions will be answered with a glimpse of what's to come during the first week but for now here is my prediction on who will fit in the top six of the table.
1. Chelsea
New Signing Diego Costa will have to do alot of celebrating for Chelsea to finish at the top of the table.
Key Additions: F Diego Costa, MF Cesc Fabregas, DF Filipe Luis, GK Thibaut Courtois, F Didier Drogba
Key Losses: MF Frank Lampard, DF Ashley Cole, DF David Luiz, F Romelu Lukaku
Chelsea come into this Premier League season as my favorites to win the title given their vast majority of talent all over the pitch. Diego Costa gives Chelsea what they lacked for many years, a clinical striker who can consistently score goals.
Cesc Fabregas is another major signing in my opinion will recapture that form he once had at Arsenal and will create a deadly combination with all the other midfielders such as the likes of Eden Hazard, Oscar, Willian and Schurrle.
Chelsea also get back Thibaut Courtois from loan where he was arguably one of the top goalkeepers in the world as Atletico Madrid won the La Liga trophy with their stifling defense.
Speaking of their defense, Chelsea also poached their left-back Filipe Luis who fills a much needed gap that Chelsea had last year with Ashley Cole out of form. If David Luiz plays any way like he did in the 2014 World Cup, than Chelsea got away with robbery selling him for 50 million euros.
While not playing last year for Chelsea, I listed Romelu Lukaku as a key loss as I thought he would be their future number 9 however they made a good profit from him selling the Belguim international for 28 million euros, however I believe Romelu Lukaku has the potential to be a world class striker.
Bold Prediction: If Chelsea does not finish in the top 2 or win a major trophy, the "Special One" Jose Mourinho will be sacked as manager.
Key Player: Diego Costa
Player to Watch: Cesc Fabregas
2. Arsenal
Key Additions: F Alexis Sanchez, DF Mathieu Debuchy, F Joel Campbell, DF Callum Chambers
Key Losses: DF Bacary Sagna, GK David Ospina
Arsenal's victory over Manchester City was no fluke, sure Man City did not play all their top players but what I saw out there was a Gunners team that was ready to redeem themselves in this new season.
Arsenal was at the top of the table for the longest time of any Premier League team but due to a rough patch of injuries, bad form and just a plain tough schedule, Arsenal faltered and eventually fell into the spot they knew all to well, 4th place.
Injuries are always an obstacle the Gunners have dealt with, Theo Walcott is still recovering from an ACL injury. If Arsenal is up for a title challenge, by all means necessary Aaron Ramsey needs to stay healthy. The Welsh international was Arsenal's best player last season over more heralded players Mesut Ozil and Jack Wilshere.
Went from the amazing journey of recovering from a horrific leg injury in 2010, becoming the fans' punching bag for every loss once he came back from injury to now Arsenal's hero.
Ramsey's constant engine and darting runs forward will be vital for Arsenal's title chances along with new signing Alexis Sanchez who will help a final third in need of depth.
He should follow up his tremendous World Cup performances along with another South American Joel Campbell who finally is going to play for the Gunners after Arsene Wenger signed him in 2011. Arsenal lost Bacary Sagna but is replaced by Mathieu Debuchy who can be seen as an upgrade.
Bold Prediction: Aaron Ramsey will win PFA Player of the Year if he is healthy
Key Player: Aaron Ramsey
Player to Watch: Joel Campbell
3. Manchester City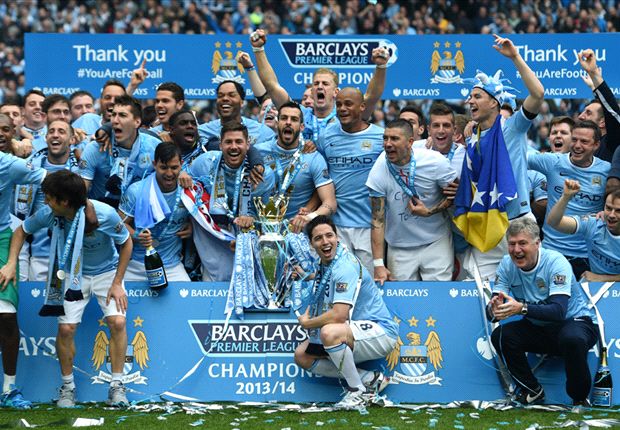 Key Additions: DF Bacary Sagna, MF Fernando, GK Willy Caballero, DF Eliaquim Mangala, MF Bruno Zuculini
Key Losses: MF Javi Garcia, DF Joleon Lescott
In what was a historically close battle to the top of the table last season, Manchester City finished as the eventual champions.
With Manuel Pellegrini now entering his second season with the club, his job is to obviously repeat that same feat. His job would not be made easier by the additions of their counterparts Arsenal, Chelsea and even Manchester United.
Although Manchester City did not make any groundbreaking transfers, they did not have to as they already have a team with amazing amounts of talent.
Former Gunner Bacary Sagna becomes another ex-Arsenal player to have cashed in, Fernando and Eliaqulim Mangala are two ex-Porto players looking to shore up the defense.
Goalkeeper Willy Caballero will give much needed competition for Joe Hart whom was very inconsistent the past season. Unlike the Manchester City transfer philosophy, they did not sign high profile players and rather signed players who would play an role in an already stacked squad.
Manchester City certainly did not regress from last season, it is just the other teams have gotten better.
With Luis Suarez biting his trade in La Liga, Sergio Aguero is the favorite for the scoring title barring any injury.
Bold Prediction: The point difference from Chelsea to Manchester City will be within 4 points.
Key Player: Sergio Aguero
Player to Watch: Stevan Jovetic
4. Manchester United
Call it a business relationship.
Key Additions: DF Luke Shaw, MF Ander Herrera
Key Losses: DF Nemanja Vidic, DF Rio Ferdinand, DF Patrice Evra,MF Ryan Giggs
This is a bold prediction in itself that Manchester United will qualify for a spot in the Champions League. While as you can see there are not that many new signings, (however they are in talks to sign Netherlands' Daley Blind.) the change in manager should prove a huge difference and major improvement for this upcoming season.
What new Manchester United manager Louis Van Gaal proved to me during the 2014 World Cup was that he was the best tactical manager in the tournament as he made the most out of the talent of the Netherlands squad adopting a 3-5-2.
Also known for the genius subsitute putting in Newcastle's Tim Krul over Jasper Cillessen to defeat Costa Rica and advance in the semifinals.
We have seen the introduction of the 3-5-2 in the preseason and it has produced promising results for the Red Devils allowing the use of all the key players in what LVG calls an "
unbalanced
" squad.
Former Southampton fullback Luke Shaw will occupy Manchester United and England's left side for years to come while Ander Herrera is an underrated signing that strengthens that central midfield that seriously lacked quality and depth.Adnan Januzaj was the breakout performer during the Moyes era, how will he gel with LVG?
Phil Jones has a chance to play a major role in this new regime playing in a three back line. Wayne Rooney maybe the new captain but the fate of the Red Devils will lie in the boots of the Flying Dutchman Robin Van Persie.
Key Player: Robin Van Persie
Player to Watch: Phil Jones
Bold Prediction #2: Daley Blind will become a member of Manchester United before the deadline. Nani will be transferred or loaned out.
5. Liverpool
There is someone missing from this picture.
Key Additions: MF Adam Lallana, F Rickie Lambert, MF Emre Can, DF Dejan Lovren, DF Javier Manquillo, DF Alberto Moreno, MF Lazar Markovic
Key Losses: Luis Suarez
The Bite heard around Brazil that former Liverpool superstar Luis Suarez bestowed to an unfortunate Giorgio Chellini was called into question and Liverpool were once again in a difficult situation with the Uruguayan. Liverpool made the best decision possible and transferred a player who was one bite away from a lifetime ban to Barcelona for a 75 million euro transfer fee.
Liverpool did not let the money go to waste as they have strengthened the team across the spectrum mostly at the expense of Southampton fans. Adam Lallana and Rickie Lambert enjoyed an excellent season with the Saints and will try to replace that potency Liverpool had to its free flowing attack.
Dejan Lovren gives Liverpool a stalwart defender as he also enjoyed a great season with Southampton. Javier Manquillo and Alberto Moreno are two young Spanish fullbacks to provide depth for the present and future.
Lazar Markovic is a pacy winger with huge amounts of potential who adds flair into their midfield.
With all these signings why do I have Liverpool at 5th place?
Well the schedule will be their downfall as it is common for teams to struggle dealing with European qualification and while they have added depth it is still not enough to cope with their rigorous workload in the season.
Obviously their striker position is in doubt, Daniel Sturridge can prove that he does not need Suarez to be a top striker. However Sturridge is known to be injury prone and Lambert is the only cover.
Also questions if Steven Gerrard can still handle it at top level after a horrible World Cup, look for Emre Can to be in that defensive midfield if Gerrard can't hold up. 18 year old Jordan Ibe has been getting reps during the preseason and could be the next breakthrough youngster in Brendan Rodgers' squad.
Key Player: Daniel Sturridge
Player to Watch: Jordan Ibe
Bold Prediction: Steven Gerrard will get fazed out of the starting eleven.
6. Everton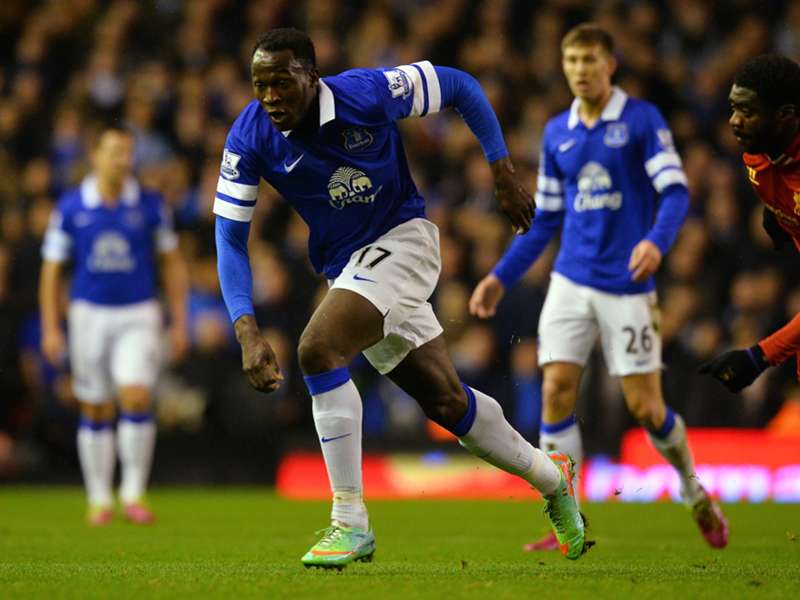 Key Additions: Romelu Lukaku, Christian Atsu(loan), Gareth Barry, Muhammad Besic
Key Losses: Gerard Deulofeu
In his first season as Everton manager, Roberto Martinez finished 5th place over the likes of rivals Manchester United.
Roberto Martinez proved how effective the loan market can be, acquiring the likes of Romelu Lukaku, Gerard Deulofeu and Gareth Barry all through the loan market.
They were able to acquire Romelu Lukaku and Gareth Barry on permanent deals while Deulofeu has been replaced with the loan of Christian Atsu.
The Lukaku signing at a club record 28 million euros however marks the progress being made at Everton as he has shown he is already one of the better strikers the Premier League has to offer and at 21 years old will be leading their line for years.
Although we can't forget the player who is behind him, Ross Barkley who has enjoyed a breakthrough under Roberto Martinez. The midfielder however will miss six to eight weeks with a knee injury.
Muhammed Besic brings Everton a young holding midfielder that can make a good combination with Gareth Barry and James McCarthy in the midfield.
John Stones became Everton's starting center-back towards the end of the season, how will he improve in his first full season in the first eleven?
Key Player: Romelu Lukaku
Player to Watch: John Stones
Bold Prediction: Romelu Lukaku will score over 20 goals this season.
Here is my outlook on the rest of the Premier League table