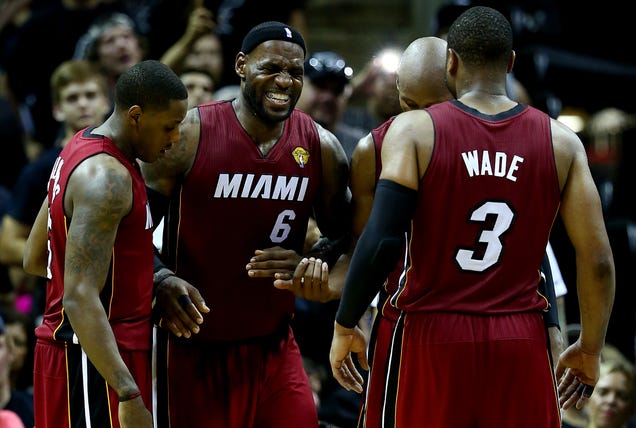 Much has been made of the controversy surrounding the Spurs Game 1 victory over the Miami Heat when LeBron James left the game in the 4th quarter due to leg cramping. Athletes, analysts and fans alike were criticizing LeBron James for bailing out on his team, not b. Using Kobe as a comparison shooting free throws with a ruptured achilles and walking off under his own power. I know I am in the minority with this, but LeBron James was justifyable leaving the game with cramps. Cramps are a for painful heat injury to have, they may not have the lasting effects of a torn ligament or achilles but cramps immobilzies that affected muscle and the athlete LeBron is allowed to go that long playing through cramps.
So you ask, where is my credible source? Well the credible source is myself, I use to deal with hip cramps and trust they are the worst, do you know how it feels to run with hip cramps. It feels like a thousand hammers banging at your side, it was too much pain I had to call out of games, workouts, appointments, get-togethers, reunions you name it. LeBron is totally justified for leaving the game and being carted off by trainer and James Jones, whom has had the most camera time he's had the most camera time all playoffs.
Now here are the keys to the game.
Key Matchup: Tony Parker vs. Norris Cole
My initial key matchup was LeBron James vs. Kawhi Leonard but guarding LeBron for San Antonio will be more of a committee between him and Boris Diaw, and that if there is anybody with the amount of quickness that Tony Parker has, it is Norris Cole. Norris Cole might not go toe to toe with Tony Parker on the offensive end, but can be the deciding factor between San Antonio going 2-0 in the series and Miami making it 1-1. Norris Cole known for being a pest defensively, will be expected to get more minutes than Mario Chalmers and do not be surprised if the former Cleveland State point guard makes the start. Tony Parker's ankle did not bother him in Game 1, will it hinder his effectiveness in game 2.
X-Factor: Air Conditioning
Yes air conditioning or lack thereof has proved to be effective handling the Heat (no pun intended). Is this a conspiracy theory that the Spurs scouted LeBron's cramping issues and did this knowing that Tony Parker reportedly played in these conditions in the European Championship, and Manu played like this during his days in Argentina while Tim Duncan said it felt like the Virgin Islands. Hey, Jason Terry did not think this was a
coincidence
. Either way, if the Spurs want to win this series, it is best to keep their arena at tropic temperatures.
Prediction: Heat def. Spurs (Series tied 1-1)
It is hard to stop LeBron when he is angry, scratch that it is impossible to stop LeBron when he is angry. With "crampgate", LeBron has told reporters, fans and even Johnathan Martin that he will be ready for Game 2. And as a young Celtics fan I was in 2012 I knew all too well that when LeBron says he will put on a show, he will put on a show. Lets not forget that Heat are 12-0 in the last 12 playoff games following a loss and expect a 40 point near triple double night for LeBron James as the Heat will tie this series barring any cramps.
More coverage on the series and the upcoming World Cup 2014, follow
Shaysport
on Twitter!