Before I get started on this, what is up with the short sleeve shirts? NBA Jerseys suppose to be JERSEYS not v-neck colored T-Shirts with a team logo on them being sold for
109.95
. I don't know but that is just me, so while we have this T-shirt festive NBA Christmas there are a load of games to get underway some games are probably not gonna be good as advertised due to injuries(Bulls vs Nets) while others are a showcase of the top western teams (sans Portland) that will most likely be challenging the Heat or Pacers in the NBA Finals. Notice I didn't mention any other Eastern Conference team, notice that. Nonetheless this NBA Christmas T-Shirt Fashion showcase will give you a progress report on how these ten teams are faring. Oh and Merry Christmas.
Chicago Bulls(10-16) vs. Brooklyn Nets(9-18) 12:00 PM EST Barclays Center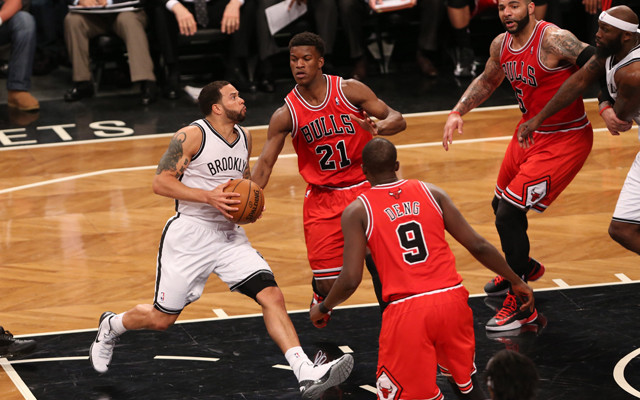 This season is not going as advertised for both teams.
Probable Lineups
PG:
D.J. Augustin
SG:
Mike Dunleavy
SF:
Jimmy Butler
PF:
Carlos Boozer
C:
Joakim Noah
Key Backups: Kirk Hinrich, Taj Gibson, Tony Snell
Notable Injuries: Derrick Rose (Torn Meniscus), Luol Deng (Achilles)
PG:
Deron Williams
SG:
Joe Johnson
SF:
Paul Pierce
PF:
Kevin Garnett
C:
Andray Blatche
Key Backups: Jason Terry, Mirza Teletovic, Shaun Livingston, Reggie Evans, Alan Anderson
Notable Injuries: Brook Lopez (Broken Foot)
This playoff rematch was suppose to be better than advertised, unfortunately with a few key injuries it is only fitting this happens to be the first game of the holiday. Chicago will be lucky to have back both Jimmy Butler and Kirk Hinrich as they practiced Tuesday after battling injuries of their own.
The Nets despite losing their leading scorer Brook Lopez for the season is surprisingly in better health than usual with Deron Williams' ankle injuries hopefully behind him as well as Paul Pierce and KG back to a full bill of health. The problem still is the huge decline of Kevin Garnett as he is really looking like a shell of his former self even compared to last year and life would not be made easier going against his former assistant coach Tom Thibodeau and his stifling defense. Paul Pierce had some much needed rest coming off an ejection for a
clothesline
on Pacers guard George Hill. He will also face a tough task as Jimmy Butler is one of the better perimeter defenders in the NBA.
Although D.J. Augustin has been solid for the Bulls during the last two games, but at 6'0 183, he is too small to handle the 6'3 210 pound Deron Williams who might be too much to ask Kirk Hinrich to guard coming back from injury. Add to that more depth and home-court advantage, I don't think Jason Kidd wants to be embarrassed in the Barclays Center

Key Matchup: D.J Augustin vs. Deron Williams
Prediction: Nets
Oklahoma City Thunder(22-5) vs. New York Knicks(9-18) 2:30 PM EST Madison Square Garden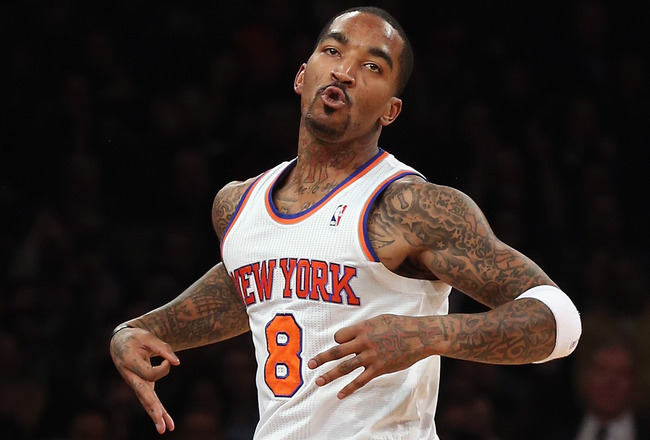 This guy will have to step up if New York is to stand a chance.
Probable Lineups
Thunder
PG: Russell Westbrook SG: Thabo Sefolosha SF: Kevin Durant PF: Serge Ibaka C: Kendrick Perkins
Key Backups: Reggie Jackson, Jeremy Lamb, Nick Collison
Notable Injuries: Steven Adams (ankle)
Knicks
PG:
Beno Udrih
SG:
Iman Shumpert
SF:
Carmelo Anthony*
PF:
Andrea Bargnani
C:
Tyson Chandler
Key Backups:
J.R. Smith, Tim Hardaway Jr., Cole Aldrich
Notable Injuries:
Raymond Felton (Groin), Kenyon Martin (Abdomen), Metta World Peace (Knee), Pablo Prigioni (Broken Toe)
*Game Time Decision (Ankle, may not play)
When Cole Aldrich is labeled as a "key backup" you know you are in trouble. The Knicks injury list is as long as the yellow pages and star player Carmelo Anthony may not play due to popping his ankle against the Orlando Magic on Monday.
After watching Melo play with a torn labrum in last season's NBA Playoffs I expect him to toughen up and play against OKC, but even a hundred percent Melo won't be enough to stop the 2nd best team in the Western Conference.
Kevin Durant just keeps getting better as that gap between him and LeBron is getting tighter, Russell Westbrook will cause huge problems for New York's depleted backcourt and Mike Woodson would be crazy if he were to let Beno Udrih get the duties to guard him, but he might not have a choice. Andrea Bargnani hopefully will not make any more mistakes as the Knicks will have to rely on him as he can take Ibaka out of his comfort zone with his shooting range.
Reggie Jackson and Jeremy Lamb are young athletic guards coming off the bench that would cause more problems for that Knicks defense. This will be an easy win for Oklahoma City in Madison Square Garden.
Key Matchup: Kevin Durant vs. Carmelo Anthony
Prediction: Thunder
Miami Heat (21-6) vs. Los Angeles Lakers (13-15) 5:00 PM EST Staples Center
Kobe Bryant will miss Christmas Day for the first time since 1997.
Probable Lineups
Heat
PG:
Mario Chalmers
SG:
Dwayne Wade
SF:
LeBron James
PF:
Shane Battier
C:
Chris Bosh
Key Backups: Michael Beasley, Norris Cole, Ray Allen, Chris "Birdman" Andersen
Notable Injuries: None
Lakers:
PG:
Jordan Farmar
SG:
Jodie Meeks
SF:
Wesley Johnson
PF:
Shawne Williams
C:
Pau Gasol
Key Backups:
Xavier Henry, Nick Young, Chris Kaman, Jordan Hill
Notable Injuries: Kobe Bryant (Knee), Steve Blake (Elbow), Steve Nash (back)
If only Kobe decided to make his comeback for Christmas.Some can argue that the Lakers have been better off without Kobe with coach Mike D'Antoni seemingly to finally have this Los Angeles team to play the way he wants to.
For any non-Kobe obsesser, you have to love this team, its full of former NBA rejects and underachievers forming a squad that is just only three games away from playoff contention (over .500 before Kobe came back). Jodie Meeks, Xavier Henry and Nick Young can flat out score and if Lakers are to keep this game close they will have to provide most of the perimeter scoring. While declining Pau Gasol is still the best player on this team and needs to play that way. Jordan Farmar comes back for Christmas after nursing a torn hamstring but will be used in limited minutes.
Wesley Johnson should be starting solely for the purpose of guarding LeBron, Dwayne Wade rested against the Atlanta Hawks and should be fully fit for Christmas. Chris Bosh will of course be a big factor as well. Heat will win this one although I have the Lakers making this game closer than we think.
Key Matchup: Chris Bosh vs. Pau Gasol
Prediction: Heat
Houston Rockets (18-11) vs. San Antonio Spurs (22-6) 8:00 PM EST AT&T Center
Is The Beard going to play?
Probable Lineups
Rockets
PG:
Jeremy Lin
SG:
James Harden*
SF:
Chandler Parsons
PF:
Terrance Jones
C:
Dwight Howard
Key Backups:
Aaron Brooks, Francisco Garcia, Omri Casspi
Notable Injuries: Omer Asik (thigh), Patrick Beverley (hand), Greg Smith (knee)
*Game Time Decision (ankle)
Spurs
PG:
Tony Parker
SG:
Danny Green
SF:
Kawhi Leonard
PF:
Boris Diaw
C:
Tim Duncan
Key Backups: Manu Ginobili, Tiago Splitter, Marco Belinelli, Patty Mills
Notable Injuries: None
The state of Texas is not big enough for the two of them and this can be a possible Western Conference Final preview. Ankle injuries are spreading around like a disease and James Harden is hoping to play battling with one. James Harden would make a huge difference but his ankle will limit one of his biggest strengths and that is his dribble penetration.
Have no fear Houston Jeremy Lin can provide that coming off a 20 point game against Dallas. All eyes will be on Dwight Howard if James Harden is limited and how would he perform against the NBA Finals runner ups with everyone watching?
A clean bill of health for San Antonio and a plethora of three point shooters would be too much for Houston to handle. The key match-up will come down to utility men Chandler Parsons and Kawhi Leonard and what extra work would these two up and coming players will provide for their respective teams.
Key Match-up Chandler Parsons vs. Kawhi Leonard
Prediction: Spurs
Los Angeles Clippers (20-9) vs. Golden State Warriors (16-13) 10:30 PM EST ORACLE Arena
Who will win this brawl?
Probable Lineups
Clippers
PG:
Chris Paul
SG:
Jamal Crawford
SF:
Jared Dudley
PF:
Blake Griffin
C:
DeAndre Jordan
Key Backups: Darren Collison, Matt Barnes, Willie Green
Notable Injuries: J.J. Redick (wrist)
Warriors
PG:

Stephen Curry

SG

:

Klay Thompson

SF:

Andre Igoudala

PF:

David Lee

C:

Andrew Bogut
Key Backups: Harrison Barnes, Draymond Green, Marresse Speights, Toney Douglas
Notable Injuries: Jermaine O'Neal (wrist)
Last time these two teams fought, Chris Paul put the team on his back and scored 42 points while also dishing 15 assists in a 126-115 win.
Now these two teams meet in Oakland at the ORACLE Arena and the crazed Golden State crowd will not allow the Clips to steal one on the road. Oh and let me introduce you if you have not met them already, meet the Splash Brothers; Stephen Curry and Klay Thompson both of whom combined for 175 threes so far and is possibly the best shooting backcourt in NBA history.
Clippers will be missing their hit-man J.J Redick for this three point shooting party and with Jamal Crawford starting at the two guard makes them thinner in the second team.
The match-up of David Lee and Blake Griffin is interesting and don't be surprised if a flagrant foul or two is called. How much will defensive anchors DeAndre Jordan and Andrew Bogut affect this game.
So many intriguing match-ups in this game but ultimately it comes down to Chris Paul and Steph Curry. The Warriors are one of the strongest home teams at 9-4 and will have a chip on their shoulder for what I feel would be the game of Christmas.
Key Match-up Chris Paul vs. Steph Curry
Prediction: Warriors